For a not so heavy meal around the holidays, try this Leek and Potato Soup.
I made this last night for dinner and it was super simple and very tasty. Paired with some crusty bread or garlic biscuits and a salad, it hit the spot.
I garnished it with fresh chives for color.
My only modification to cut a few calories was that I used fat free half and half instead of the heavy cream.
(1 cup of heavy cream = 821 calories,1 cup of fat free half and half = 143 calories)
(Saved 678 calories!)
Ingredients
1 pound leeks, cleaned and dark green sections removed, approximately 4 to 5 medium
3 tablespoons unsalted butter
Heavy pinch kosher salt, plus additional for seasoning
14 ounces, approximately 3 small, Yukon gold potatoes, peeled and diced small
1 quart vegetable broth
1 cup heavy cream
1 cup buttermilk
1/2 teaspoon white pepper
1 tablespoon snipped chives
Directions
Chop the leeks into small pieces.
In a 6-quart saucepan over medium heat, melt the butter. Add the leeks and a heavy pinch of salt and sweat for 5 minutes. Decrease the heat to medium-low and cook until the leeks are tender, approximately 25 minutes, stirring occasionally.
Add the potatoes and the vegetable broth, increase the heat to medium-high, and bring to a boil. Reduce the heat to low, cover, and gently simmer until the potatoes are soft, approximately 45 minutes.
Turn off the heat and puree the mixture with an immersion blender until smooth. Stir in the heavy cream, buttermilk, and white pepper. Taste and adjust seasoning if desired. Sprinkle with chives and serve immediately, or chill and serve cold.
Bon Appétit!
~ Lori
http://www.foodnetwork.com/recipes/alton-brown/leek-potato-soup-recipe/index.html
A BRIEF HISTORY OF THE PARK IN HOTEL AND CITY NATIONAL BANK
Ron recently had the chance to stay at a Frank Lloyd Wright designed hotel while overseeing a project in Mason City,Iowa; I thought it a great opportunity to explore a little bit of the history of the historic building!
"In the early 1900s, Mason City, Iowa, was booming.  Successful attorneys James Blythe and J.E.E. Markley were among those spearheading growth.  Serving on the board of directors of the City National Bank, which contemplated expanding, they saw the opportunity to meet multiple needs with one plan.  A new building could provide a home for the bank, new offices for their firm, a much-needed hotel, and a replacement for the old eye-sores on the corner of State Street and Federal Avenue, the hub of downtown.
At the time, Markley's two daughters attended Hillside Home School in Spring Green, Wisconsin.  The school boasted a beautiful building designed for the sisters who ran it by their nephew, Frank Lloyd Wright.  Impressed with the design, Markley suggested the Chicago architect for the Mason City project.  With his innovative Prairie School designs drawing considerable attention, Wright was well-established in Oak Park, Illinois, where other like-minded architects also worked in his studio.
Wright came to Mason City and the project took on life.  With its unique three-part design, the City National Bank and Park Inn Hotel began to take shape.  In 1909, however, Wright's scandalous elopement to Europe with the wife of a former client left the rest of the construction management to his Oak Park associate William Drummond.  Fortunately, Drummond was able to see the building completed according to Wright's original design and it opened to the public in 1910."
-Excerpt from www.wrightonthepark.org/
Over the years the building was remodeled to serve a variety of purposes and eventually fell into disrepair.
"At this point, concern mounted over whether or not the historic property could be salvaged.  The bank, under separate ownership, housed retail shops and offices but the interior of the hotel continued to deteriorate.  Still, many local residents firmly believed the building deserved to be rescued for historic and artistic reasons, as a memorial to one of the country's greatest architects, and for its potential value as both a tourist attraction and in revitalizing the city's downtown.
In 2005, Wright on the Park, Inc.(WOTP), a local citizens' organization, formed and achieved IRS recognition as a non-profit organization in order to undertake The Historic Park Inn Hotel project.  Starting with grants obtained in previous efforts, WOTP began fundraising.  Memberships, private donations, grants, a Vision Mason City drive, a Vision Iowa grant, and tax credits made it possible for construction to begin in 2010.
Renovation began with the hotel while the bank was under private ownership.  Repairs to the roof took priority, followed by cleaning the exterior brick and restoring the terra cotta and polychrome tile columns.  In 2007, this group of volunteers also purchased the bank, enabling it to plan renovation of the entire structure, returning it to its original exterior design. "
-Excerpt from www.stoneycreekinn.com/
The Park Inn Hotel is the last remaining Frank Lloyd Wright designed and built hotel in the world.  So, next time you are in Mason City Iowa checking out Legacy Manor make sure you take some time to explore The Park Inn hotel and City National Bank!
-Carl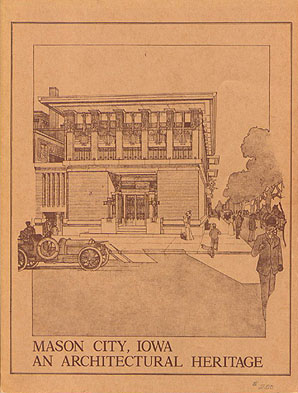 -Images from Google